Due to the growing popularity of the cryptocurrency market, more and more coins are springing up that aim to carve out a profitable niche for investors. One of those coins is Shiba Inu, developed off the back of the great success experienced by Dogecoin.
In this article, we'll present our Shiba Inu Price Prediction – covering various timeframes and highlighting how you can invest in the crypto market with 0% commissions!

Shiba Inu (SHIB)
Price
$ 0.000007
Shiba Inu Price Prediction 2021 to 2022

If you are interested in a quick Shiba Inu price prediction, then you're in the right place. This section highlights our Shiba Inu forecast over various upcoming timeframes, concluded through in-depth research and analysis of both technical and fundamental factors. The remainder of this article will cover Shiba Inu in great detail, discussing the coin's future outlook and highlighting where the best place to invest in crypto is.
One Month – Things in the crypto market seem to be ramping up again, so our Shiba Inu prediction is that the coin may head towards the previous highs of $0.0000090 by the end of this month.
Three Months – If the highs of June can be broke, expect Shiba Inu to consolidate for a few weeks and then push towards the $0.00001 region. This would represent a 30% increase from the current Shiba Inu price.
Start of 2022 – Given the Shiba Inu price today and the outlook over the next few months, we predict that this coin could be worth $0.000015 by the beginning of 2022. If this were to occur, that would mean returns of 91% if you were to invest today!
Shiba Inu Price History – the Story of 2021 So Far
If you are wondering how to buy cryptocurrency and have your eye on Shiba Inu, then it's a good idea to do your due diligence and research the coin beforehand. This will ensure you have a solid understanding of what the coin is and whether it represents a good investment or not.
Firstly, what is Shiba Inu? Shiba Inu is a cryptocurrency created in August 2020 by a person or group called 'Ryoshi'. As people who buy Dogecoin will know, the Shiba Inu dog is the official logo of Dogecoin – which is where the Shiba Inu token got its inspiration. At present, nobody knows who developed and launched Shiba Inu or what its purpose is.

According to Coinbase, there is one quadrillion Shiba Inu coins in circulation as the coin is designed to be intentionally abundant. The Shiba Inu platform supports numerous projects such as NFT art and decentralised exchanges. Thus, Shiba Inu does have some practical use cases and serves as much more than an asset designed for speculation.
When Shiba Inu first hit the market under the ticker symbol 'SHIB' in May 2021, it reached a price of $0.000039. Although this seems small, it's essential that this is put into context. The difference between the Shiba Inu price live and that price is a whopping 403%, highlighting the price potential for this crypto.
The price of Shiba Inu then fell drastically over the next few weeks, losing around 84% of its value by the end of May. A strong support level was formed around the $0.000006 mark, which seems to be holding the price up. Price has been rejected from this level numerous times now, which is excellent news for speculators who have invested in this area.

What tends to happen in the crypto market is that smaller coins will 'follow' Bitcoin's lead, in a sense. This means that when many investors buy Bitcoin and its price rises, so too does the price of smaller altcoins. This ripple effect can greatly benefit tokens such as Shiba Inu, as it helps the coin piggyback off of Bitcoin's success.
However, if Bitcoin isn't doing too well, it can have the opposite effect. This is what happened during June and July 2021, when momentum for Shiba Inu slowed down and price gradually decreased. Notably, the 7th of August saw some huge bullish volatility for the Shiba Inu coin price, with a 24% increase in one day.
This surge has given renewed hope for investors, with the Shiba Inu stock forecast looking rosy for the future. The following sections will dive into our Shiba Inu prediction 2021 and beyond, helping you make an informed investment decision.
Shiba Inu Price Forecast
The next step in our Shiba Inu forecast is to delve into the factors that could influence the coin's price in the future. To ensure we've covered all of the bases, this section will be broken down into technical analysis and fundamental analysis. Through a combination of these elements, our Shiba Inu price prediction will be as thoroughly researched as possible.
Technical
Similar to when you buy stocks, it's crucial to examine the price chart and note technical factors that can hint at where the price is going. In Shiba Inu's case, we can see that the bullish surge on the 7th of August 2021 helped the price break out of the falling wedge pattern that it was trapped in. Another great sign is that price has closed outside of this pattern and is consolidating for another push.

67% of retail investor accounts lose money when trading CFDs with this provider.
A strong resistance level is sitting at the $0.000009 mark, which the price has rejected numerous times. However, given the upwards impetus that Shina Inu is experiencing currently, there's every chance this level could be broken. If so, expect to see Shiba Inu head towards the $0.00001 mark.
This would represent a psychological level for the Shiba token, as it's a round number and could provide a base for further growth. Reaching that level from where the price is currently would represent a 38% return on your investment. Furthermore, if this level was broken, these returns could potentially double (or triple) in the coming months!
Fundamental
You may be surprised to know that the Shiba Inu cryptocurrency is much more than a 'memecoin' – in fact, it has various use cases that can be of benefit going forward. Firstly, the Shiba Inu developers have recently launched their ShibaSwap platform, a decentralised exchange where users can trade several digital coins. Although ShibaSwap is focusing on other, dog-related cryptos, there is scope for NFTs to be traded on the platform too.
Shiba Inu is also now accepted by Shopping.io, a platform that lets users buy goods from places such as Amazon, eBay and Walmart using crypto. As these places do not directly accept crypto as payment, Shopping.io is an intermediary for people who wish to make their purchases using cryptocurrency. The fact that Shiba Inu is now accepted means that the coin has another practical use case – which is sure to increase its value in the months and years to come.
Shiba Inu Price Prediction 2025 – Long Term Outlook
Our Shiba Inu forecast in the future is filled with optimism – which is excellent news for investors! As you can see from the price chart, Shiba Inu has found some solid momentum recently, breaking out of the falling wedge pattern cleanly. When this happens, it usually indicates that some further bullish momentum is likely to occur, which could propel Shiba Inu to the heights we seen in May and June.
Recently, Shiba Inu's developers have listed new pairs on ShibaSwap, adding to the platform's credibility. Furthermore, Shiba Inu has built up a sort of 'cult following' due to its original status as a memecoin, which is bound to help the coin grow going forward. These factors can't be understated when it comes to building hype around a cryptocurrency.

If Shiba Inu can capitalise on the current market environment, our Shiba Inu price prediction 2025 sees the coin head towards the $0.000038 level – which would represent a 395% increase from today's price. This would require people looking to buy cryptocurrency UK to shift their focus towards Shiba Inu, which is definitely a possibility.
Looking even further into the future, our Shiba Inu price prediction 2030 values the coin at the $0.00008 level. This would be a 933% increase from today's price, which is an incredible return for crypto investors. As a disclaimer, it's hard to base this prediction on technical analysis as it would represent levels that price has never been to before.

However, given the momentum we have seen in the crypto market before, there's every chance Shiba Inu could reach these heights. Over the next five to ten years, we will likely see a shift away from traditional FIAT currencies towards digital alternatives. Furthermore, the emergence of NFTs as a means of exchanging items is massive for Shiba Inu – which is where the developers should place their focus going forward. If these factors all merge, Shiba Inu could represent a fantastic investment opportunity for crypto investors worldwide.
Shiba Inu Price Chart
As has been highlighted through our Shiba Inu price prediction, the outlook is definitely rosy for this coin. Although many people may decide to buy Ethereum, XRP, Litecoin, Cardano, or other cryptos, the fact is that Shiba Inu has enormous potential to grow from the levels it is currently at. Due to Shiba Inu's minuscule value at present, any significant price increases would mean massive gains for investors.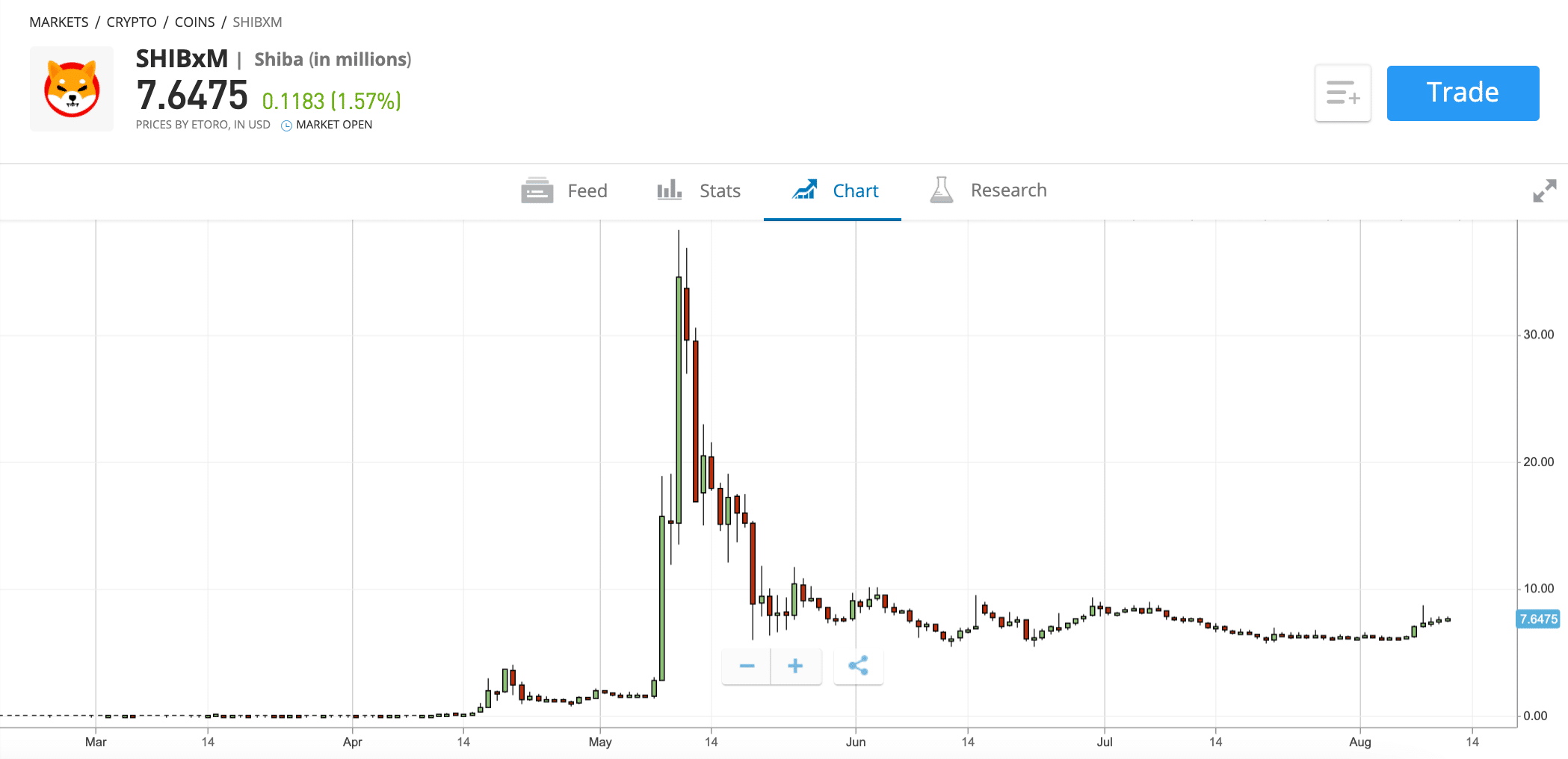 67% of retail investor accounts lose money when trading CFDs with this provider.
The Shiba Inu ecosystem that the developers are creating is providing a solid use case for this altcoin. Other tokens, such as LEASH and BONE, are now being traded on the Shiba Inu exchange, increasing its size and attracting more investors. If this continues to happen, it'll have a positive knock-on effect on Shiba Inu's value.
As the price was at the $0.000035 mark back in May 2021, it's natural that this should be a target going forward. Simply returning to these all-time highs would represent a 350% return, highlighting this coin's incredible potential. Furthermore, will the Shiba Inu ecosystem continuing to grow and the crypto market becoming increasingly popular, there's always scope to go beyond these levels.
Where to Invest in Shiba Inu
Now that you have a solid understanding of Shiba Inu and its prospects, it's time to discuss how to invest in the coin. Firstly, you'll need to create an account with a safe and reliable broker or exchange to facilitate your investment. Many of the best trading platforms UK will offer cryptocurrency trading facilities – yet most will not provide Shiba Inu, as the coin is currently relatively small in terms of market cap.
However, we've found that the best crypto exchange for investing in Shina Inu is eToro. Although not technically an 'exchange', eToro offers an easy and cost-effective way of investing in Shiba Inu from the comfort of your own home. eToro is regulated by reputable organisations such as the FCA, ASIC, and CySEC, ensuring that all traders who use the platform are heavily protected.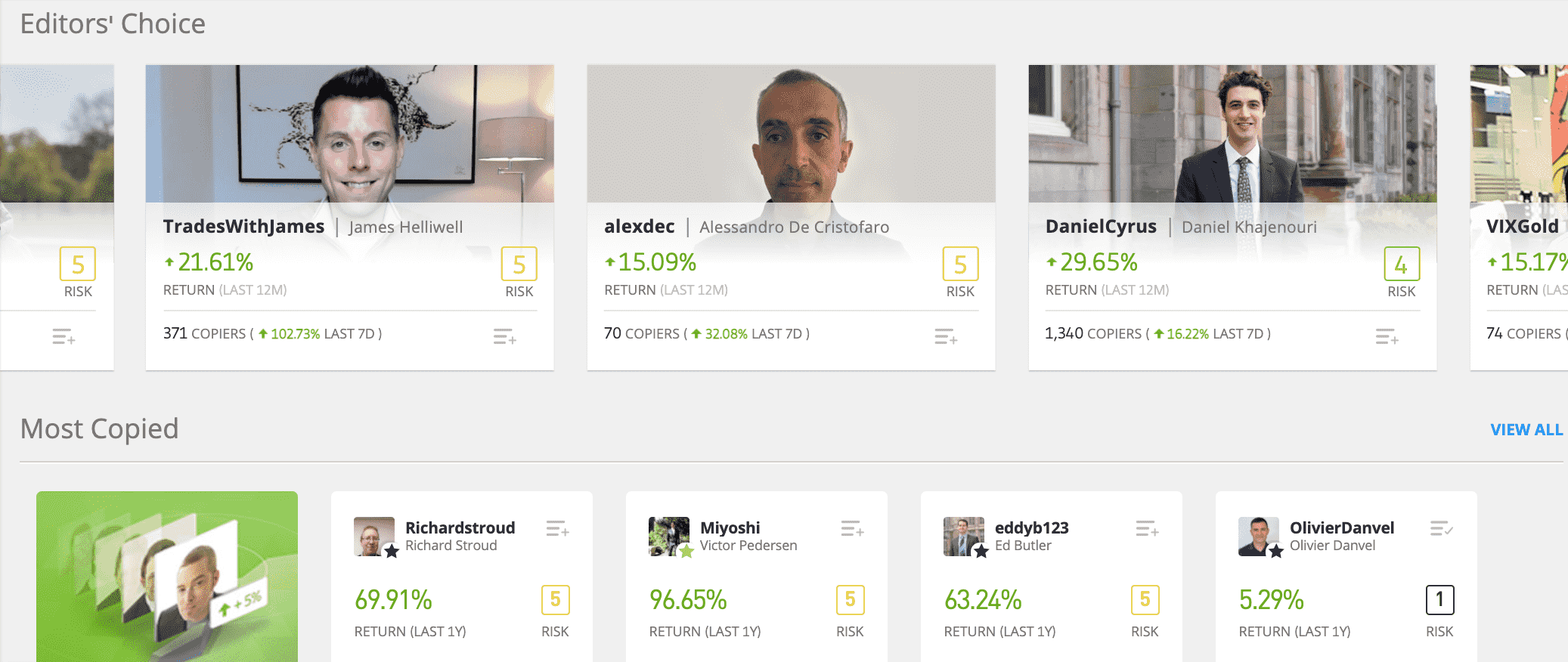 We recommend eToro so highly because users do not have to pay any commissions when placing a trade. Other brokers and exchanges may charge a percentage of the position size as their 'fee', which eToro choose to avoid. In addition, eToro doesn't charge any other hidden fees, and their minimum deposit is only $50.
Another great thing about eToro is that users can utilise the platform's CopyTrader feature. This feature allows users to copy the trades made by other eToro users automatically. So, this means that beginner traders can generate returns whilst still learning the market!
Overall, we believe that eToro represents the best place to buy Shiba Inu right now. The platform's low fees and user-friendly experience make it ideal for traders of all experience levels. Finally, eToro even offers a handy demo account feature, which is perfect for learning the markets in a risk-free manner!
Shiba Inu Price Prediction – Conclusion
Throughout this article, we've presented our Shiba Inu prediction for various timeframes, covering the coin's outlook and why we feel it'll reach those levels. As Shiba Inu started as a memecoin, many doubters claim the coin will never reach the heights of other cryptos. However, as the crypto market gears up for another bull run and Shiba Inu adds further use cases, there's every chance this coin could net great returns for investors.
So, if you'd like to invest in Shiba Inu right now, we'd recommend using eToro. eToro's platform is regulated by the FCA, ASIC, and CySEC, providing a safe environment to trade the crypto market. What's more, eToro charge 0% commissions when placing trades, with the minimum deposit amount being only $50!

67% of retail investor accounts lose money when trading CFDs with this provider.
FAQs
What is the price of Shiba Inu right now?
What drives the price of Shiba Inu?
Where can I buy Shiba Inu?
Why is Shiba Inu going up?
What will Shiba Inu be worth by 2022?
What will Shiba Inu be worth in 2025?